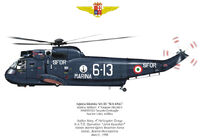 The Sikorsky Sh-3 "Sea King" is a twin-engine multi-purpose helicopter, build by US helicopter manufacturer Sikorsky Aircraft . It is used by the US Navy and other forces and countries around the world .
The SH-3 who was used for the journey to the Thule Station was flown by the two US Pilots Sam Carter and Derek Jameson.
Ad blocker interference detected!
Wikia is a free-to-use site that makes money from advertising. We have a modified experience for viewers using ad blockers

Wikia is not accessible if you've made further modifications. Remove the custom ad blocker rule(s) and the page will load as expected.